1) Hatchi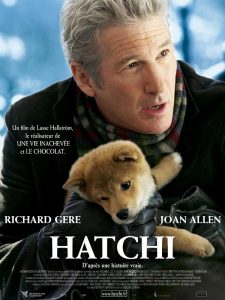 For Parker, professor of music at the university, the arrival of the dog Hatchi in the family was a happy event. The animal took its place with everyone, but it was with Parker that he spent the most time. Every morning, the dog accompanied his master to the station where he took his train, and every night the animal came to wait for him there.
This touching ritual punctuated the lives of all those who witnessed them … until the tragic day when Parker did not return. Hatchi continued to wait for him. He waited for her everyday, til the end. By dint of fidelity and patience, the animal became not only a legend, but it upset all those who knew its history.
2) Marley & Me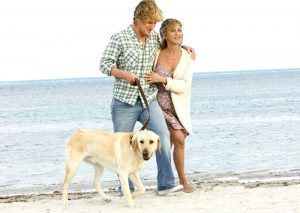 Jenny and John have just gotten married under the snow in Michigan and decide to settle in sunny Florida. While the desire to have a first child is looming at Jenny, John hopes to delay the deadline by offering him an adorable puppy on the advice of his colleague Sébastien, a seducer enjoying his full celibacy.
This is how Marley, a young Labrador, takes place within the couple. Growing up, the animal is as crisp as it is devastating and the house becomes a real playground, where nothing can escape its voracity.
But the urge to start a family resurfaces, and Jenny is now expecting her first child. At the rate of the years and the catastrophes that it provokes, Marley will be the witness of a family which is built and enlarges, faced with career choices, periods of doubt and life changes.
 For Jenny and John, even though Marley is the worst dog in the world, this tornado of energy will show them affection and unbounded loyalty, to teach them the greatest lesson of their lives.